Code of Conduct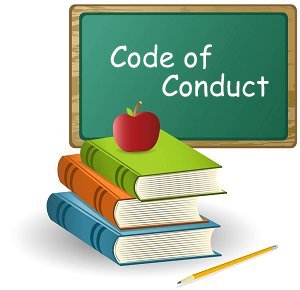 Bedford South School follows the Regional Code of Conduct from the Nova Scotia Department of Education and the Halifax Regional Centre for Education.
We follow the P.E.B.S. approach. P.E.B.S. is a school wide behaviour plan that is used in every setting of the school.
P.E.B.S. stands for Positive Effective Behaviour Support.

Code of Conduct Matrix
The Code of Conduct Matrix contains guidelines which tell us all what is expected of school members in every school setting. The entire PEBS matrix is based on respect for:
Ourselves
Others
Our Environment
Learning (our own and others)
A copy of the matrix can be found in the front of the school, in every classroom, as well as in hallways,
stairwells and on our school website.
Computer Internet Guidelines
All users are expected to adhere to the following rules:
Information technology and Internet resources will be used for educational purposes only.
All users of Board Technology are prohibited from:
Copying or downloading intellectual property and/or copyrighted materials such as books, letters, songs, software programs.
Accessing illegal, harassing, obscene, pornographic, racist, libellous, threatening or sexually explicit resources in all of the Board's schools and workplaces.
Using electronic mail to send obscene, anonymous, threatening, libellous, discriminatory, or inflammatory messages.
Using email communications for the forwarding of irrelevant (e.g., chain letters) or unsubstantiated information, jokes or pictures.
Installing unauthorized software.
Causing disruption of the Internet or Intranet.
Using Board Technology at any location for the purposes of bullying or harassing.
Posting student work, photographs and/or video images on any website without prior written consent from the student's parent or guardian.
Posting student names and/or close-up frontal images on any website.
Users will use appropriate language and will be polite and respectful at all times when communicating over the Internet.
PRINCIPLES
Respect
It is expected that school members will exhibit behaviour that shows respect for the rights, property, and safety of the school

Responsibility
It is expected that school members will accept personal responsibility for their behaviour in order to maintain a safe learning environment

Rights
It is expected that school members will honour the rights of others through the process of learning and demonstrating appropriate behaviour in the context of social responsibility

The above principals are supported by the Education Act under several sections, including the preamble and those pertaining to the duties of students, parents, teachers, superintendents, and support staff.
Every student has the ability to experience success. The Positive Behavioural Support program is designed so that success is attainable for all students in all settings.